Black Lives Matter.
SimonSays#8 - Black Lives Matter.
Hi,
Welcome to SimonSays #8! If you'd like to sign up, you can do so below. Or just read on…
Until next week,
Stay safe!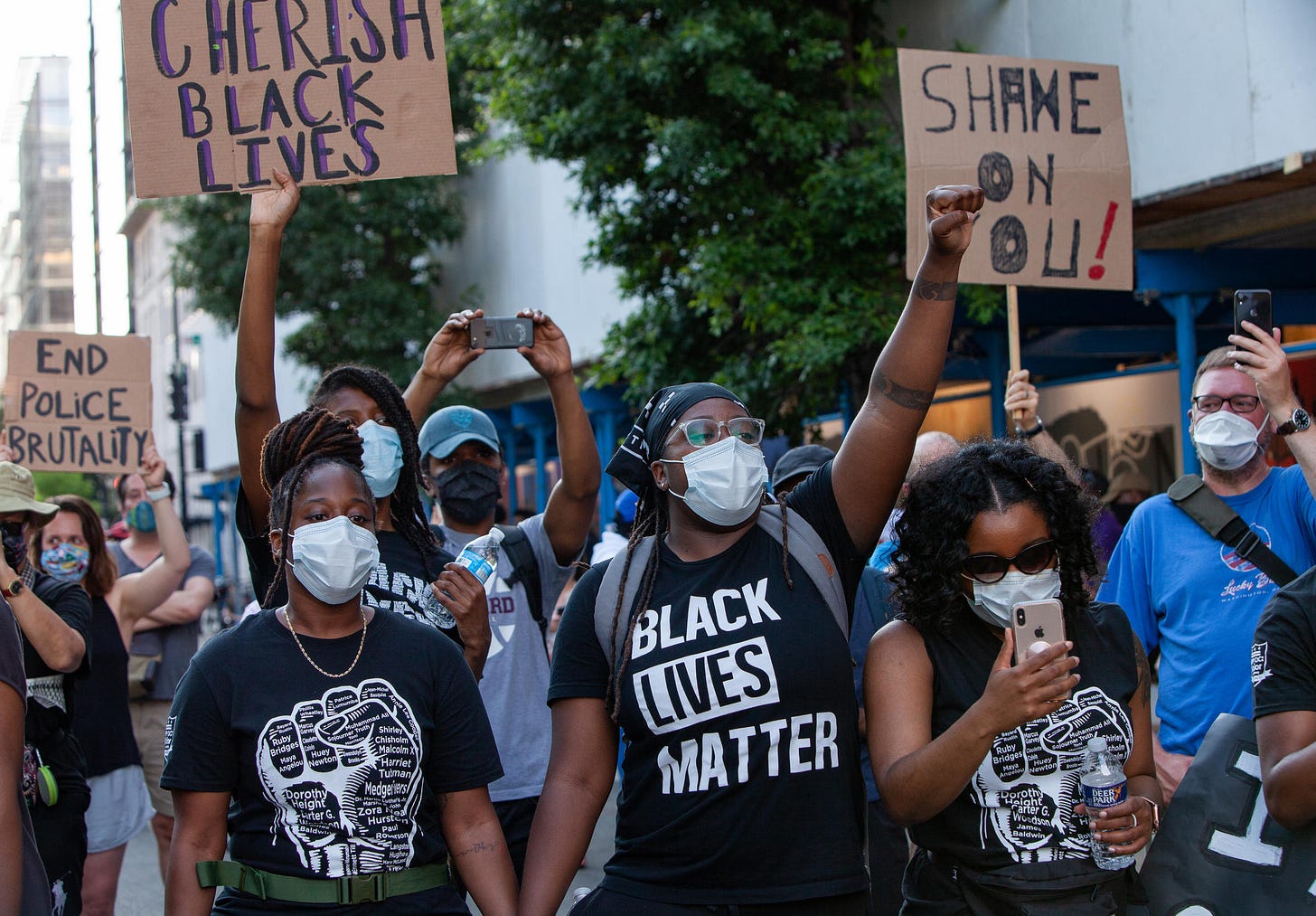 The week was dominated by pieces on Black Lives Matter, racial inequality, police brutality. Writing about anything else felt out of place, but I also realized I was too ignorant to contribute.
Instead, I took the time to read, listen and educate myself.
Here's the best resources I came across.
Articles
The underlying assumptions of white innocence and black guilt are all part of what the philosopher Charles Mills calls the "racial contract." If the social contract is the implicit agreement among members of a society to follow the rules—for example, acting lawfully, adhering to the results of elections, and contesting the agreed-upon rules by nonviolent means—then the racial contract is a codicil rendered in invisible ink, one stating that the rules as written do not apply to nonwhite people in the same way. The Declaration of Independence states that all men are created equal; the racial contract limits this to white men with property. The law says murder is illegal; the racial contract says it's fine for white people to chase and murder black people if they have decided that those black people scare them. "The terms of the Racial Contract," Mills wrote, "mean that nonwhite subpersonhood is enshrined simultaneously with white personhood."

The racial contract is not partisan—it guides staunch conservatives and sensitive liberals alike—but it works most effectively when it remains imperceptible to its beneficiaries. As long as it is invisible, members of society can proceed as though the provisions of the social contract apply equally to everyone. But when an injustice pushes the racial contract into the open, it forces people to choose whether to embrace, contest, or deny its existence. Video evidence of unjustified shootings of black people is so jarring in part because it exposes the terms of the racial contract so vividly. But as the process in the Arbery case shows, the racial contract most often operates unnoticed, relying on Americans to have an implicit understanding of who is bound by the rules, and who is exempt from them.

The implied terms of the racial contract are visible everywhere for those willing to see them. A 12-year-old with a toy gun is a dangerous threat who must be met with lethal force; armed militias drawing beads on federal agents are heroes of liberty. Struggling white farmers in Iowa taking billions in federal assistance are hardworking Americans down on their luck; struggling single parents in cities using food stamps are welfare queens. Black Americans struggling in the cocaine epidemic are a "bio-underclass" created by a pathological culture; white Americans struggling with opioid addiction are a national tragedy. Poor European immigrants who flocked to an America with virtually no immigration restrictions came "the right way"; poor Central American immigrants evading a baroque and unforgiving system are gang members and terrorists.
5 years ago, Al-Jazeera journalist, A'Lelia Bundles, attempted to explain how American history helped explain today's debates, movements and conflicts. Tragically, not much has changed since Michael Brown's death six years ago.
Examining American history provides us with the tools to analyse how the death of Michael Brown and the demonstrations on Florrisant Avenue became a tipping point and sparked a movement. Connecting the dots between the past and the present helps us to see the origins of our current national debate - about race, police misconduct, white supremacy, white privilege, inequality, incarceration and the unfinished equal rights agenda.

…

We are a nation of contradictions. We continue to fight the same battles over and over, decade after decade, generation after generation without facing reality. We put band aids on lacerations and hope the cancer of racial hatred won't recur.
The question is: How do we change this country? It's not a new question; for African-Americans, it's a question as old as the nation itself. A large part of the reason that rebels swell the streets with clenched fists and expressive eyes is the refusal or inability of this society to engage that question in a satisfying way. Instead, those asking the question are patronized with sweet-sounding speeches, made with alliterative apologia, often interspersed with recitations about the meaning of America, and ultimately in defense of the status quo. There is a palpable poverty of intellect, a lack of imagination, and a banality of ideas pervading mainstream politics today. Old and failed propositions are recycled, but proclaimed as new, reviving cynicism and dismay.
As I wrote to someone today, "This is not a black problem, but a structural issue built on white supremacy and centuries of racism. It's your problem. And until you understand that, we are doomed to relive this week's tragic events over and over again. What changes will you make in your own life? Begin with answering that question and maybe, just maybe we will get somewhere."

The most important question is: What are you going to do?

At an appropriate time, I will gather the community to talk about what I have written and what we might be able to do together to address racism in America, beginning first of all with an honest appraisal of who we are and what we stand for.
I think whites are carefully taught not to recognize white privilege, as males are taught not to recognize male privilege. So I have begun in an untutored way to ask what it is like to have white privilege. I have come to see white privilege as an invisible package of unearned assets that I can count on cashing in each day, but about which I was "meant" to remain oblivious. White privilege is like an invisible weightless knapsack of special provisions, maps, passports, codebooks, visas, clothes, tools , and blank checks.
And like all families, this brotherhood and sisterhood of suffering is complicated. It's not the Brady Bunch. The movement for black lives has its arguments and animosities; people get estranged from one another. Sometimes black people reject relationships with their community. Some don't see issues such as police brutality as rooted in historic patterns of oppression. Some black people think the way to get ahead in a white-supremacist society is to get away from black folks. As we say, "All skinfolk ain't kinfolk."

But when white supremacy takes its toll on these black people as well, which it almost always does, only one community will understand and gather around them, maybe with a hearty "I told you so" first.

However families may fight, they tend to come together in a crisis. Right now the crisis of police brutality has once again given cause for black people around the country, and even the world, to gather in defense of one another.
---
Videos
Killer Mike's Speech.
I got a lot of love and respect for police officers down to the original eight police officers in Atlanta that, even after becoming police, had to dress in a YMCA because white officers didn't want to get dressed with n*****s.

And, here we are, 80 years later. I watched a white officer assassinate a black man, and I know that tore your heart out. I know it's crippling, and I have nothing positive to say in this moment because I don't want to be here. But, I'm responsible to be here because it wasn't just Doctor King and people dressed nicely who marched and protested to progress this city and so many other cities.

…

It is the responsibility of us to make this better right now. We don't want to see one officer charged. We want to see four officers prosecuted and sentenced. We don't want to see Targets burning. We want to see the system that sets up for systemic racism burnt to the ground.
---
Books
I'm currently reading Americanah by Chimamanda Ngozi Adichie
"The only reason you say that race was not an issue is because you wish it was not. We all wish is was not. But it's a lie. I came from a country where race was not an issue; I did not think myself as black and I only became black when I came to America. When you are black in America and you fall in love with a white person, race doesn't matter when you're alone together because it's just you and your love. But the minute you step outside, race matters. But we don't talk about it. We don't even tell our white partners small things that piss us off and the things we wish they understood better, because we're worried they will say we're overreacting, or we're being too sensitive. And we don't want them to say, Look how far we've come, just forty years ago it would have been illegal for us to even be a couple blah blah blah, because you know what we're thinking when they say that? We're thinking why the fuck should it ever have been illegal anyway? But we don't say any of this stuff. We let it pile up inside our heads and when we come to nice liberal dinners like this, we say that race doesn't matter because that's what we're supposed to say, to keep our nice liberal friends comfortable. It's true. I speak from experience."
I know that what I am asking is impossible. But in our time, as in every time, the impossible is the least that one can demand—and one is, after all, emboldened by the spectacle of human history in general, and American Negro history in particular, for it testifies to nothing less than the perpetual achievement of the impossible.

When I was very young, and was dealing with my buddies in those wine- and urine-stained hallways, something in me wondered, What will happen to all that beauty? For black people, though I am aware that some of us, black and white, do not know it yet, are very beautiful. And when I sat at Elijah's table and watched the baby, the women, and the men, and we talked about God's—or Allah's—vengeance, I wondered, when that vengeance was achieved, What will happen to all that beauty then? I could also see that the intransigence and ignorance of the white world might make that vengeance inevitable—a vengeance that does not really depend on, and cannot really be executed by, any person or organization, and that cannot be prevented by any police force or army: historical vengeance, a cosmic vengeance, based on the law that we recognize when we say, "Whatever goes up must come down."

And here we are, at the center of the arc, trapped in the gaudiest, most valuable, and most improbable water wheel the world has ever seen. Everything now, we must assume, is in our hands; we have no right to assume otherwise. If we—and now I mean the relatively conscious whites and the relatively conscious blacks, who must, like lovers, insist on, or create, the consciousness of the others—do not falter in our duty now, we may be able, handful that we are, to end the racial nightmare, and achieve our country, and change the history of the world. If we do not now dare everything, the fulfillment of that prophecy, re-created from the Bible in song by a slave, is upon us: God gave Noah the rainbow sign, No more water, the fire next time!
If you want to read more books on the topic, here's a booklist.
---
Speeches
I read Obama's powerful address after the death of Trayvon Martin
You know, when Trayvon Martin was first shot I said that this could have been my son. Another way of saying that is Trayvon Martin could have been me 35 years ago. And when you think about why, in the African American community at least, there's a lot of pain around what happened here, I think it's important to recognize that the African American community is looking at this issue through a set of experiences and a history that doesn't go away.

There are very few African American men in this country who haven't had the experience of being followed when they were shopping in a department store. That includes me. There are very few African American men who haven't had the experience of walking across the street and hearing the locks click on the doors of cars. That happens to me -- at least before I was a senator. There are very few African Americans who haven't had the experience of getting on an elevator and a woman clutching her purse nervously and holding her breath until she had a chance to get off.

That happens often.

And I don't want to exaggerate this, but those sets of experiences inform how the African American community interprets what happened one night in Florida. And it's inescapable for people to bring those experiences to bear. The African American community is also knowledgeable that there is a history of racial disparities in the application of our criminal laws -- everything from the death penalty to enforcement of our drug laws. And that ends up having an impact in terms of how people interpret the case.

Now, this isn't to say that the African American community is naïve about the fact that African American young men are disproportionately involved in the criminal justice system; that they're disproportionately both victims and perpetrators of violence. It's not to make excuses for that fact -- although black folks do interpret the reasons for that in a historical context. They understand that some of the violence that takes place in poor black neighborhoods around the country is born out of a very violent past in this country, and that the poverty and dysfunction that we see in those communities can be traced to a very difficult history.

And so the fact that sometimes that's unacknowledged adds to the frustration. And the fact that a lot of African American boys are painted with a broad brush and the excuse is given, well, there are these statistics out there that show that African American boys are more violent -- using that as an excuse to then see sons treated differently causes pain.

I think the African American community is also not naïve in understanding that, statistically, somebody like Trayvon Martin was statistically more likely to be shot by a peer than he was by somebody else. So folks understand the challenges that exist for African American boys. But they get frustrated, I think, if they feel that there's no context for it and that context is being denied. And that all contributes I think to a sense that if a white male teen was involved in the same kind of scenario, that, from top to bottom, both the outcome and the aftermath might have been different.
I also re-listened to my favorite Martin Luther King Jr's speech: I've Been to the Mountaintop. If you've never listened to or read it, what are you waiting for?
Dr King's words are as relevant now as they were when he delivered them more than 50 years ago, in April 1968:
Now that's a strange statement to make, because the world is all messed up. The nation is sick. Trouble is in the land; confusion all around. That's a strange statement. But I know, somehow, that only when it is dark enough can you see the stars. And I see God working in this period of the twentieth century in a way that men, in some strange way, are responding.

Something is happening in our world. The masses of people are rising up. And wherever they are assembled today, whether they are in Johannesburg, South Africa; Nairobi, Kenya; Accra, Ghana; New York City; Atlanta, Georgia; Jackson, Mississippi; or Memphis, Tennessee -- the cry is always the same: "We want to be free."

And another reason that I'm happy to live in this period is that we have been forced to a point where we are going to have to grapple with the problems that men have been trying to grapple with through history, but the demands didn't force them to do it. Survival demands that we grapple with them. Men, for years now, have been talking about war and peace. But now, no longer can they just talk about it. It is no longer a choice between violence and nonviolence in this world; it's nonviolence or nonexistence. That is where we are today.

And also in the human rights revolution, if something isn't done, and done in a hurry, to bring the colored peoples of the world out of their long years of poverty, their long years of hurt and neglect, the whole world is doomed. Now, I'm just happy that God has allowed me to live in this period to see what is unfolding.
---
Films
Love is the message, the message is Death - Arthur Jafa
I Am Not Your Negro - James Baldwin
---
Going Further
If you want more to read, here's one great Google Drive and another containing many more resources.
If you feel like donating, here's a link to Black Lives Matter's donation page.
This Time article also includes many links to various donation pages to help support the movement and various causes.
---
Much of the content shared in this week's issue was recommended by a friend, Alex, which I'd like to thank 🙂 If, like him, you have any suggestions or feedback feel free to leave a comment below or contact me on Twitter @the_simonpastor !