🌿Harmless Tradition or Khat-astrophe?
SimonSays #5 - "A man without khat, is like a fish out of water." 
Hi,
Welcome to SimonSays #5! If you'd like to sign up, you can do so here. Or just read on…
Until next week,
Stay safe!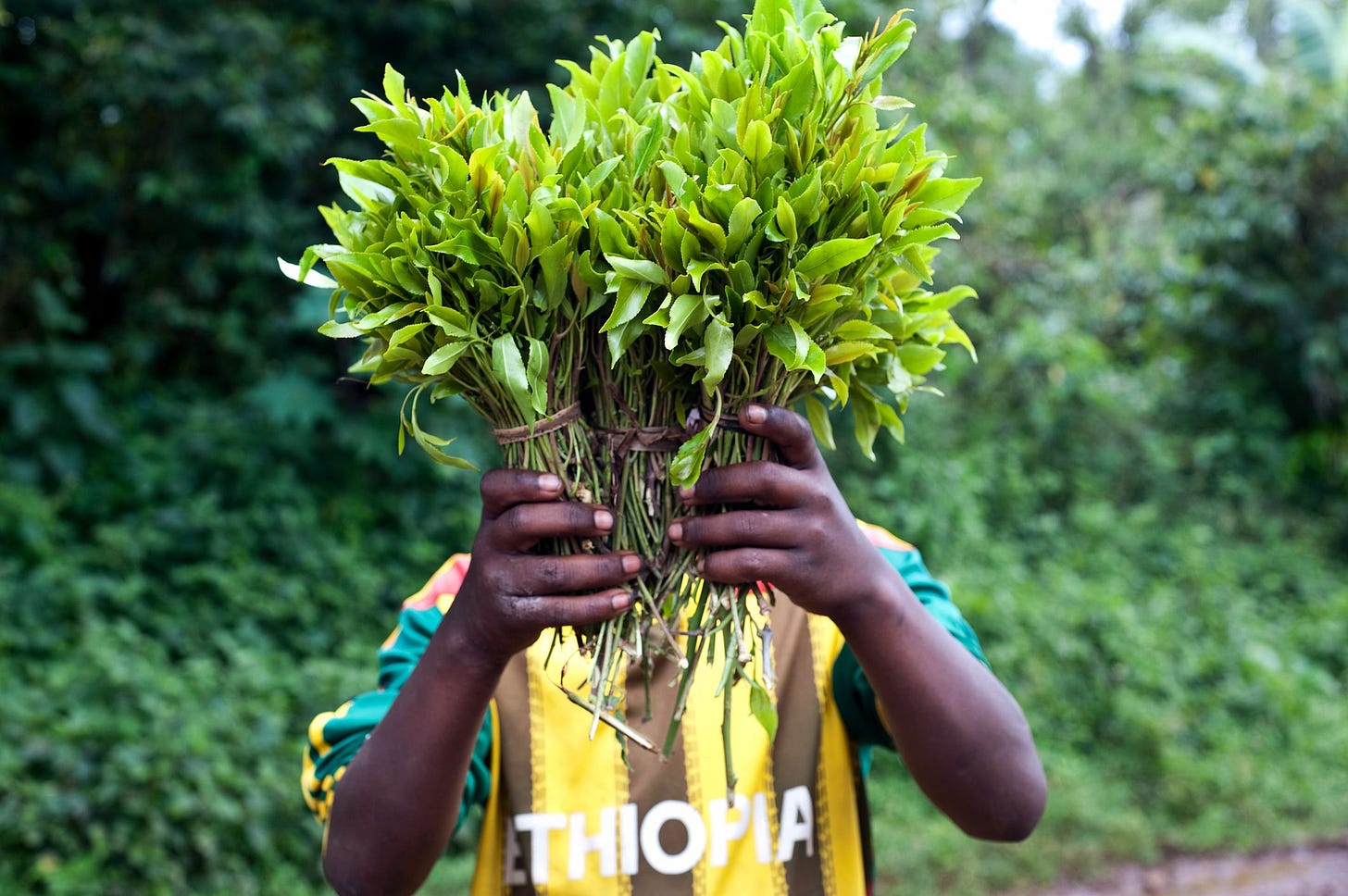 According to a Somali fisherman, "A man without khat, is like a fish out of water". So what happens when the Coronavirus pandemic results in khat being banned, in a country where a third of its inhabitants consume it regularly? Somalia will give us an answer soon…
If you've never heard of khat before, it's probably because you're not East African or have never been there. The plant has been consumed in East Africa and Yemen for centuries and is appreciated for its relaxing, euphoric effects similar to that of amphetamine.
You said Khat?
Khat is quite unique in that you don't drink it nor smoke it, you chew it. When chewed, the leaves release molecules of cathinone, producing a high effect to its consumer similar to that of amphetamines. Yet, cathinone starts to break down rapidly in leaves and stems once the twigs are cut off, thus requiring the leaves to be consumed fresh.
The volatile nature of cathinone has had a profound impact on khat consumption and trade. For centuries, consumption was confined to the parts of Yemen, Ethiopia, and Kenya that could produce the plant, or that could be easily reached on foot or mounted on donkey or camels.
The development of rapid transportation has thus been key to khat's geographical spread. Indeed, after the completion of a railroad that passed from the capital Addis Ababa, through khat producing regions to the new French port of Djibouti, small amounts of fresh plants began to be exported by rail throughout the country, to Djibouti and to Somalia.  
Today khat can be found throughout the world, but is mainly produced and consumed in Ethiopia, Djibouti, Kenya, Uganda, Yemen and Somalia mainly where it's sale is legal. 
The Art of Chewing
For centuries, Muslims participating in religious ceremonies held at Muslim shrines in khat-producing provinces spent long hours of the day and night chewing while praying to Allah. 
While khat consumption might find its origins with religion, the plant has evolved to be consumed as a leisure or at work. In most cases chewing has remained a collective experience. In Yemen the traditional model for khat consumption, though not religious, is very ritualised. Wealthy Yemenis gather in specially designed large comfortable rooms, with discretely placed spittoons and wide windows offering viewpoints on the surrounding landscapes. Far from being a solitary activity, the chewing sessions provide a forum for discussion or even business transactions. 
As the drug's popularity increases, reaching new environments and socio-economic groups, the practices have evolved. As Klein & Beckerleg explain, "National styles encompass chewing for ritual, leisure, and work, but as khat use spreads and becomes a global phenomenon stripped of its traditional significance, consumption patterns are changing". 
Its effects takes place in three stages. Quickly after consumption, the consumer feels energized and stimulated. After about two hours, a more reflective mood sets in, a state of euphoria or well being that is sometimes called kayf. The kayf experience is followed by one of reflexion or introversion.
Experiencing kayf is the objective of all chewers. Kayf doesnt appear to be a simple "high", or state of euphoria. In Eating the Flowers of Paradise, Rushby describes how Burton, the great Victorian explorer and linguist, found kayf untranslatable into English. The best definition appears to be that of Kennedy, who describes kayf as an experience with six pleasurable dimensions "contentment, ability to concentrate, increased flow of ideas, increased alertness, increased confidence, and increased friendliness". 
The same author argues that kayf experiences vary from one person to the next. He describes foreigners trying khat for the first time and not "feeling any psycho-physiological effects at all". 
The last phase is not necessarily a low like what could be experienced with other drugs. The experience can be both somber or positive depending on the circumstances (personal life events, personality, setting etc..). Yet,  increasingly, khat consumers have turned to other products such as alcohol, cannabis or tobacco to counter this effect. 
The impacts of khat on health remain unclear. In the first major study comparing the health of khat users with nonusers, Kennedy found "some negative health effects which may result from heavy or prolonged use". The only consensus on the issue appears to be that khat's effects are less harmful than alcohol, tobacco or other drugs and more harmful than tea or coffee, the most benign soft drugs globally available. 
In a France 24 Documentary, a Djiboutian doctor argues that khat is the prime factor harming Djiboutians, responsible for cardiovascular diseases, diabetes and other chronic diseases. The documentary also highlights a heavily addicted 20 year old khat consumer who's been consuming the plant since he was 8 and who only weighs 29 kg!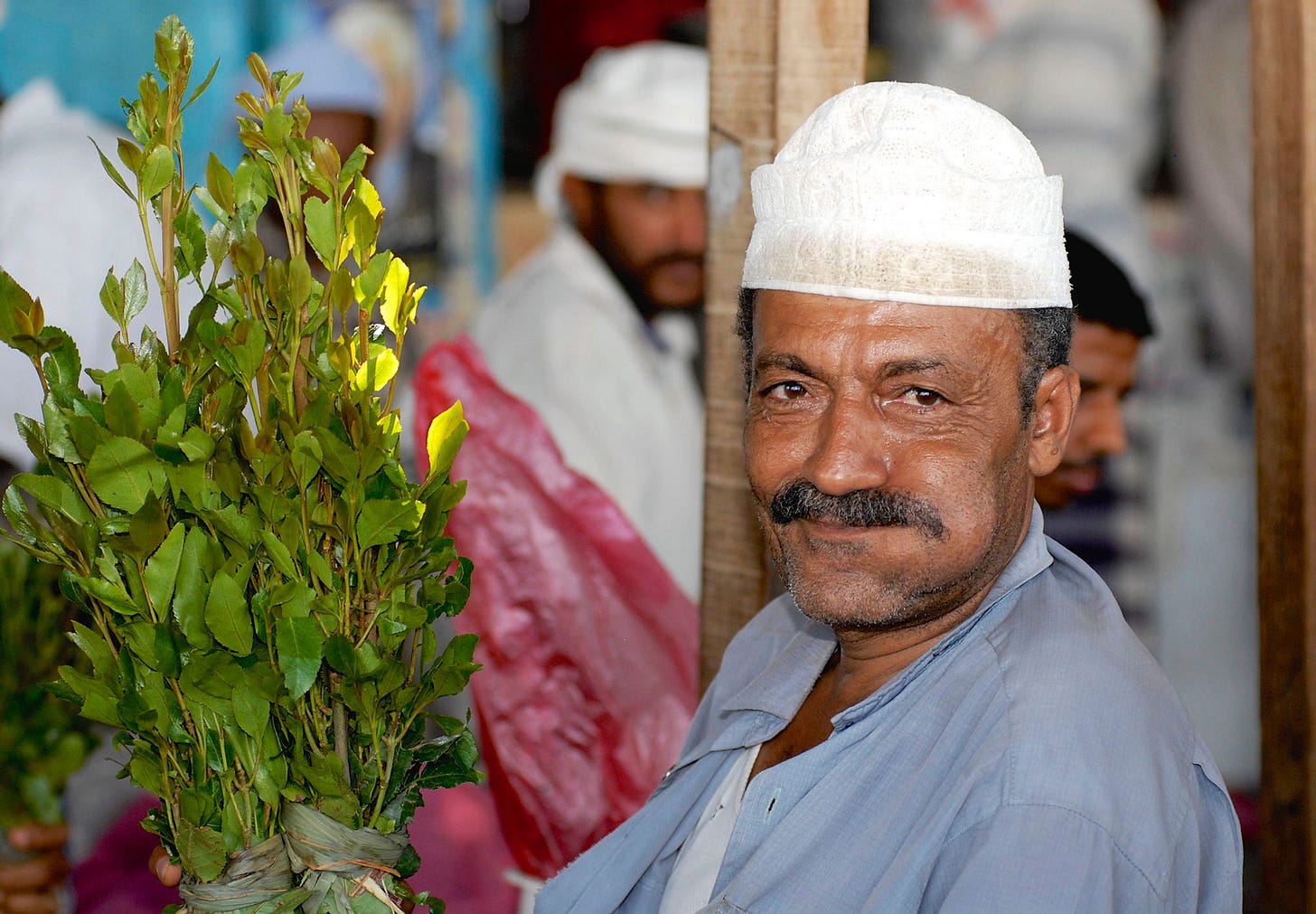 Money & Politics
Debates about khat in East Africa are not limited to public health and tradition as the plant has become a major economic and political issue. Farmers have many financial incentives for the production of khat. In Ethiopia for instance, Degol Hailu writes:
"The plant has many advantages: it's resistant to many crop diseases, grows in marginal land, requires low labour inputs and can produce up to four harvests a year. Thus, its net return per acre is often greater than that from coffee. While khat accounts for only 13 per cent of total cultivated land, it contributes 30–50 per cent of farmers' total cash income per year".
As prices of commodities have fallen in the last decades, an increasing amount of Ethiopian and Yemeni farmers have started cultivating khat.
The khat market is huge. In Ethiopia, people consume an average of 400g per day ! In the Adoway Khat Market, the biggest in the world, an estimated $80 million dollars are exchanged daily. While coffee remains Ethiopia's biggest export, it is said that the Ethiopian government earns more from the plant's sales than from coffee, "ten times more" according to a trader.
In Djibouti, tax on the plant's sales provide 15% of the state's tax revenues. More importantly, the khat industry provides thousands of jobs in a country where 60% of the population is unemployed.
Since its arrival to power in 1979, the Djiboutian People's Rally for Progress has used khat as a political tool. The state has monopolized the plant's importation along with 144 powerful families, designated as "lifelong shareholders" of the Association of Khat importers, the only organization authorized to import the plant. The revenues (estimated circa $50 million) are then redistributed to the state's loyal supporters, thus ensuring the party's popularity. The use of khat for political purposes can also be seen on election days, when leaves are distributed outside of voting stations by the party's supporters.
Khat's predominance in the lives of citizens and the economic activity of the countries, has rendered banning, restricting or regulating the plant very difficult. Colonial authorities have attempted to ban the sale and consumption of khat in the past, in Djibouti (1956–57), Somaliland (1921–57), Aden (1957–8), and Kenya (1945–56). Far from succeeding, the measures only reinforced khat's popularity by making it a symbol of national identity and anti-colonialism. The measures were thus quietly abandoned. Since, khat has become a very hot political issue, especially in producing countries. Even though the World Health Organization has classified "the plant as a possible drug of abuse but with less addictive potential than alcohol or tobacco" it has continuously pushed for its ban. More information on the WHO's assessment of the drug can be found here. Many countries have banned the substance, including the United States, Tanzania, the United Kingdom, France…
Moreover, resistance to khat has started to emerge in East-African countries, as highlighted in this article, with too little impact yet…
An Unexpected Ban
The coronavirus pandemic provides an unexpected opportunity for anti-khat advocates and could have a profound impact on the industry.
Indeed, in March the Somali government banned khat imports claiming that because it was hand picked, it could risk spreading the virus in the country. This was an unprecedented and unexpected decision given that it's estimated that a third of Somalis consume the plant regularly. One of the consequences has already been the rise of a black market and the skyrocketing of the plant's price. Anti-khat advocates argue that we will quickly see the positive consequences on households' purchasing power, on the number of divorces, on productivity etc. 
The consequence of this ban could have a major impact on the plant's future in the region. If it were to be successful, other countries could cite Somalia as an example of the plant's multiple negative impacts on the country and its citizens. However, the ban could also have disastrous consequences such as the rise of a black market and of criminal organisations handling it. Moreover, as khat prices increase, addicted consumers could turn to alcohol, cannabis, tobacco or other drugs to attempt to experience kayf. 
---
---
What Caught My Attention This Week
He was a Science Star then he promoted a questionable cure for Covid-19. The New York Times profiles Didier Raoult, a French physician and microbiologist who's hydroxychloroquine cure made him both famous worldwide and controversial.
Nayib Bukele may want to become Latin America's first millennial dictator, by the Economist. In an article I wrote last January, about my experience at the United Nations General Assembly (available here), I talked about El Salvador's President infamous selfie at the UNGA's podium, followed by the comment "Believe me, many more people will see this selfie than will hear this speech". The young president makes The Economist's headline by recently ignoring court orders, bullying lawmakers and brutalizing prisoners.
Politico's Breaking Journalism's Bad Habits. The coronavirus pandemic is putting journalism to a test, it must find global solutions to sensationalism.
If the media landscape becomes consumed once again in a fight for attention, clicks, views and shares, we'll automatically give airtime and headlines to the rudest and the loudest voices.
---
Napoleonic semaphore was the world's first telegraph network, carrying messages across 19h-Century France at an unprecedented speed. Slate and The Economist's The Secret History of the Future investigate how in 1834, a pair of thieves hacked them to beat the financial markets, conducting the world's first "cyberattack". A fascinating story, which illustrates how 150 years ago like today, human weaknesses remain a network's biggest flaw and discusses what this means for modern network security.
---
What I'm Reading
Siddhartha by Herman Hesse. Siddhartha is the story of a man who spends his entire life in search of truth, self-understanding, and Nirvana, only to find out that these cannot be attained through intellectual methods. Rather, it suggests that in this journey to fulfilment, nothing is a distraction, everything is an experience bringing you a step closer to understanding.
"Wisdom cannot be imparted. Wisdom that a wise man attempts to impart always sounds like foolishness to someone else... Knowledge can be communicated, but not wisdom. One can find it, live it, do wonders through it, but one cannot communicate and teach it."
---
Something To Think About
"A wealth of information creates a poverty of attention" Ryan Holiday, Stillness is Key
---
Feedback is greatly appreciated ! Leave comments or reach out on Twitter @the_simonpastor