Politics by the Bottle
SimonSays #3 - From Diplomacy to Globalization, wine and politics are more intertwined than you may think.
Hi,
Welcome to SimonSays #3! If you'd like to sign up, you can do so here. Or just read on…
Until next week,
Stay safe!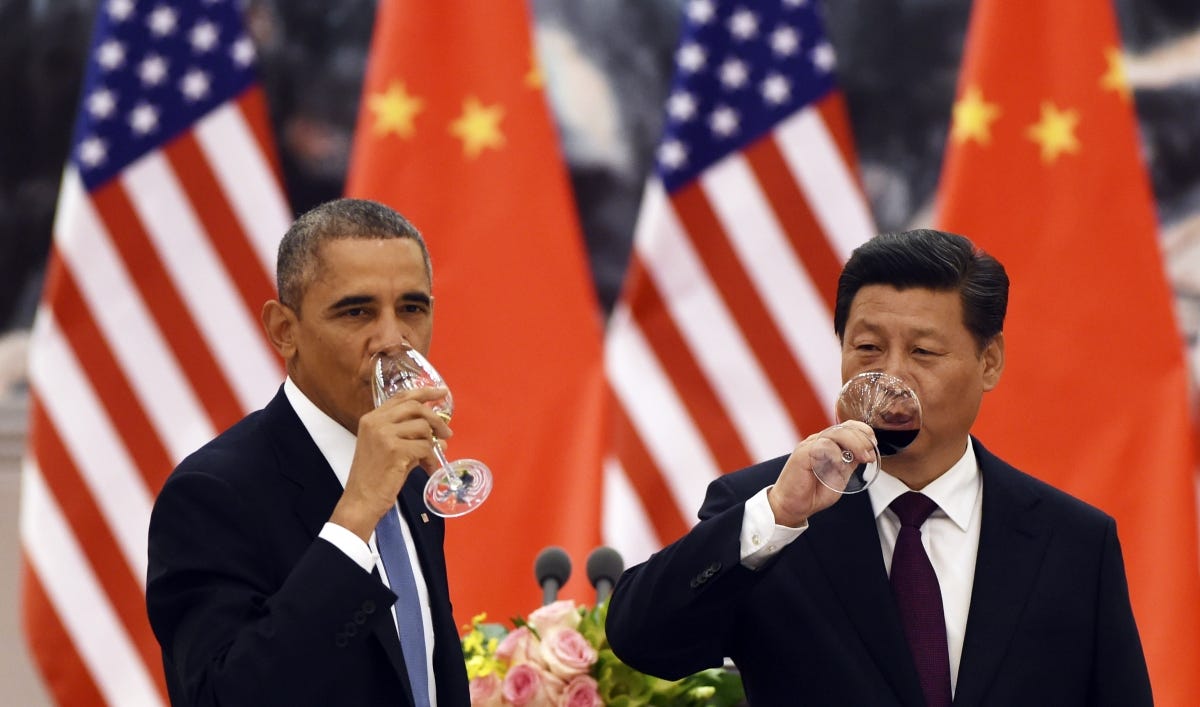 The Judgement of Paris
To commemorate the two-hundredth anniversary of the U.S Independence, in 1976, a British wine-seller organised a wine tasting between French and American wines. The test would compare White Bourgogne and Red Bordeaux to Californian Chardonnays and Cabernet Sauvignons. The wines would be blind-tasted by Michelin-starred chefs, the Secretary General of the Grands Crus Classes and several famed critics.
This was quite odd, as back in 1976 Californian wines were rather unknown in Europe. It was almost a joke for French winemakers and critics to be asked to compare French and American wines. When asked how Californian wines were viewed at that time, Steven Spurrier, the organizer of the competition responded, "California wine was not viewed. California wine did not exist".
The competition carried through. As a Time journalist wrote:
As they swirled, sniffed, sipped and spat, some judges were instantly able to separate an imported upstart from an aristocrat. More often, the panel was confused. "Ah, back to France!" exclaimed [one judge] after sipping a 1972 Chardonnay from the Napa Valley. "That is definitely California. It has no nose," said another judge—after downing a Batard Montrachet '73 [from France].
To everyone's surprise, French wines did not win that day. In fact, they lost badly. The Californian Chateau Montelena and Stag's Leap won the first prizes for white and red wines. The tasters were shocked, some even disputed the results.
As wine writer David White says, "The 1976 judgment totally changed the game". It wasn't just California that was transformed. The results "gave winemakers everywhere a reason to believe that they too could take on the greatest wines in the world".
The importance of this moment can also be seen in the fact that Chateau Montelena and Stag Leap's winning bottles were named by the Smithsonian Museum as one of the 101 Objects that Made America, alongside the Declaration of Independence, the Star Spangled Banner and Apollo 11 spacesuits.
Wine Diplomacy
Wine is an integral part of dinners between heads of states during official visits. At the Franco-Chinese State dinner in Shanghai, Emmanuel Macron offered Xi Jinping a 1978 Romanée Conti, a gift with a strong symbolic value. First, 1978 was the year China started opening its borders to the world and engaging in liberal economic reforms. Second, President Macron chose a wine from Bourgogne, as China and France were signing a deal giving better legal protection for 100 Protected Geographical Indications (which included Bourgogne wines) in China.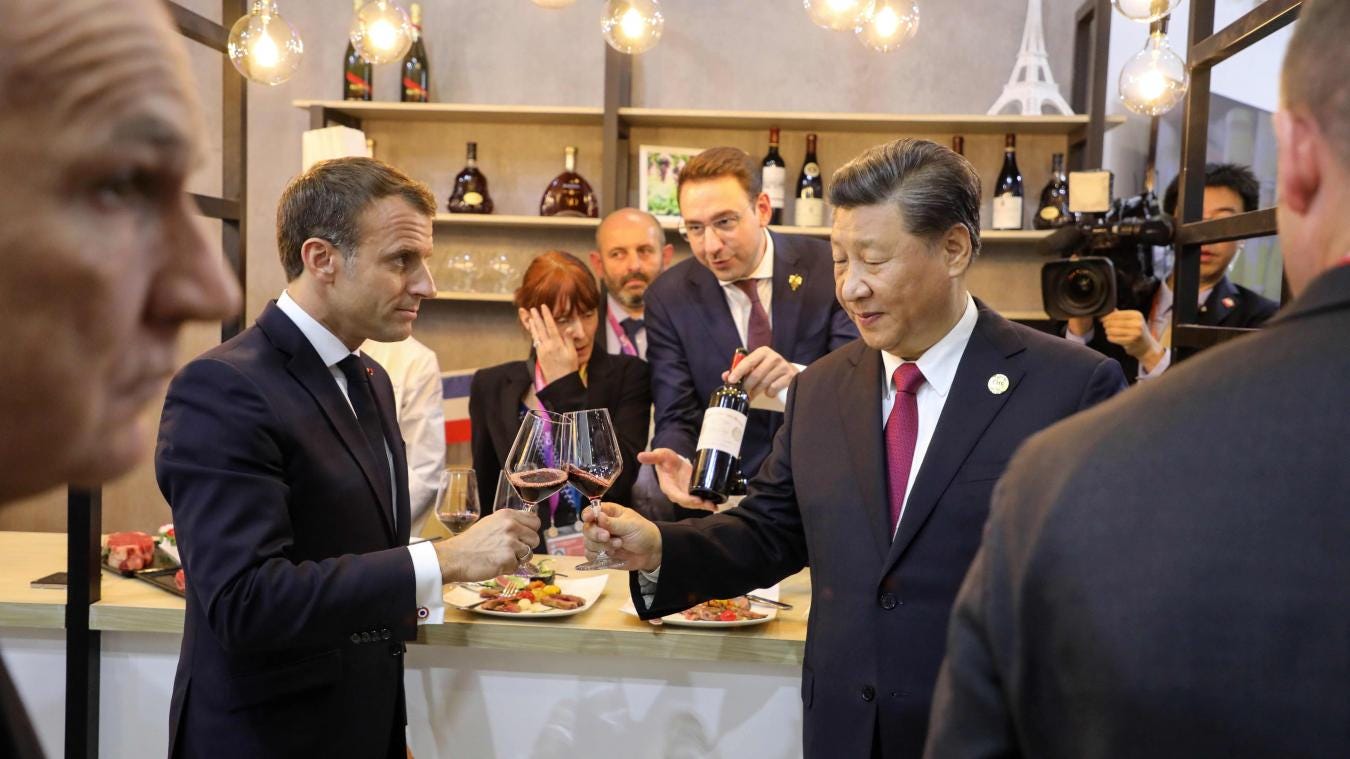 Similarly, Megumi Nishikawa writes: 
"French-German banquets are often accompanied by Corton-Charlemagne, a fine white Burgundy from the Côte de Beaune subregion which goes well with starters, and is also an allusion to Charlemagne who made Aachen the capital of his Carolingian Empire.
Past US Presidents have also used wines to represent the ethnic diversity of the United States. As the same author describes:
In early September 2001, George W. Bush served a wine called Mi Sueño ('My Dream', owned by former farm labourer Rolando Herrera) when hosting Mexican President Vicente Fox ; a Mitsuko vintage (named after the Japanese wife of the owner of the Clos Pegase winery in the Napa Valley) to Japanese Prime Minister Junichiro Koizumi in June 2006 ; and a wine from the Stag's Leap vineyards founded by Warren Winiarski (in Polish, "winegrower's son") for the State visit of Polish President Aleksander Kwaśniewski in July 2002."
From Regional Identity to World Heritage
In 1987, the history magazine L'Histoire, surveyed people asking them "What does being French mean to you?". The responses included, "speaking French", "being born in France", "defending liberties", and fourth came "liking good wine". That's how important wine can be in some countries…
The importance of winemaking traditions and vineyard landscapes was set in stone in 1999, when the Jurisdiction of Saint-Emilion became the first wine-growing region to join the UNESCO World Heritage List. Thus recognising the "special cultural or physical significance" of these superb landscapes or historic wine-growing traditions. Others have joined since:
Saint-Emilion, France (added in 1999)
Loire Valley, France (2000)
Wachau, Austria (2000)
Alto Douro, Portugal (2001)
Middle Rhine, Germany (2002)
Tokaj, Hungary (2002)
Cape Floral Region, South Africa (2004)
Pico Island, Azores, Portugal (2004)
Lavaux, Switzerland (2007)
Stari Grad Plain, Croatia (2008)
Georgia Qvevri winemaking, Georgia (2013)
Pantelleria, Italy (2014)
Piedmont, Italy (2014)
Southern Jerusalem, Palestine (2014)
Burgundy, France (2015)
Champagne, France (2015)
Prosecco Hills, Italy (2019)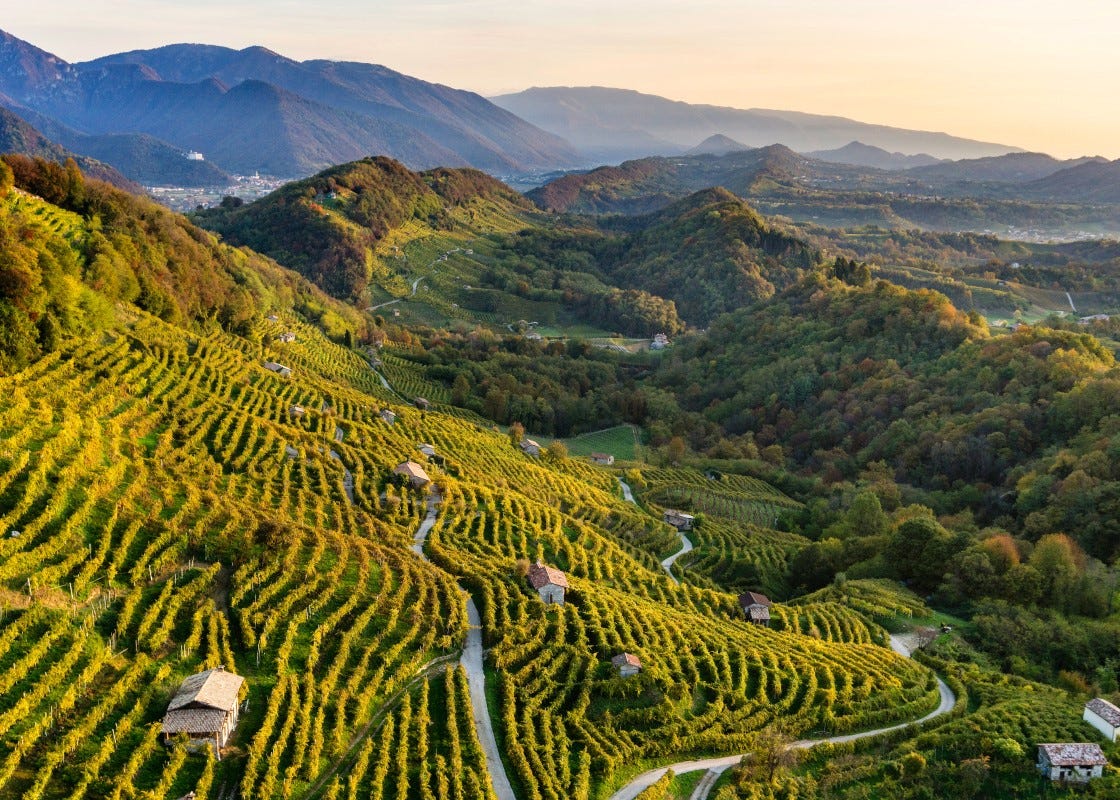 Making it to the list is not an easy process, with applications taking 10 years on average. The latest to join, Prosecco Hills (shown above), submitted a 1300 pages dossier!
New World Vs Old World
As previously mentioned with the judgement of Paris. One of the most interesting developments in the wine industry in the last decades has been the emergence of 'New World wines': non-European Wine producing countries. These include the United States (mainly from California), Australia, New Zealand, South Africa, Chile and Argentina. The emergence of these new countries has had a profound effect on wine, among which is the acceleration of its globalization.
Before, wine was mainly consumed nationally, with a small portion exported. In the 1980s, the share of global wine exported was below 15%. Today, that number is closer to 45%. Most countries are now producing to export rather than to consume.
In Chile for instance, 70% of the wine produced is exported. If you've ever looked for wines in British supermarkets, you've necessarily come across Casillero Del Diablo. It's among the 5 most popular bottles sold every year in the UK and appears as the perfect example of globalised wine: affordable and widely available, as it can be found in more than 140 countries.
Another example can be seen in the way wine is advertised. Novak Djokovic recently took part in a global advertisement campaign to promote Australia's largest wine brand, Jacob's Creek. It's not the first time celebrities are used to promote wine. Every year, Mouton Rothschild bottles are designed by international artists, with past artists including Andy Warhol, Pablo Picasso; Keith Haring (shown below), Nikki de Saint Phalle, Marc Chagall. The difference is that whereas before champagnes and the most famous Bordeaux were the only global wines, today non-exceptional bottles such as Jacob's Creek or Casillero Del Diablo have become global brands.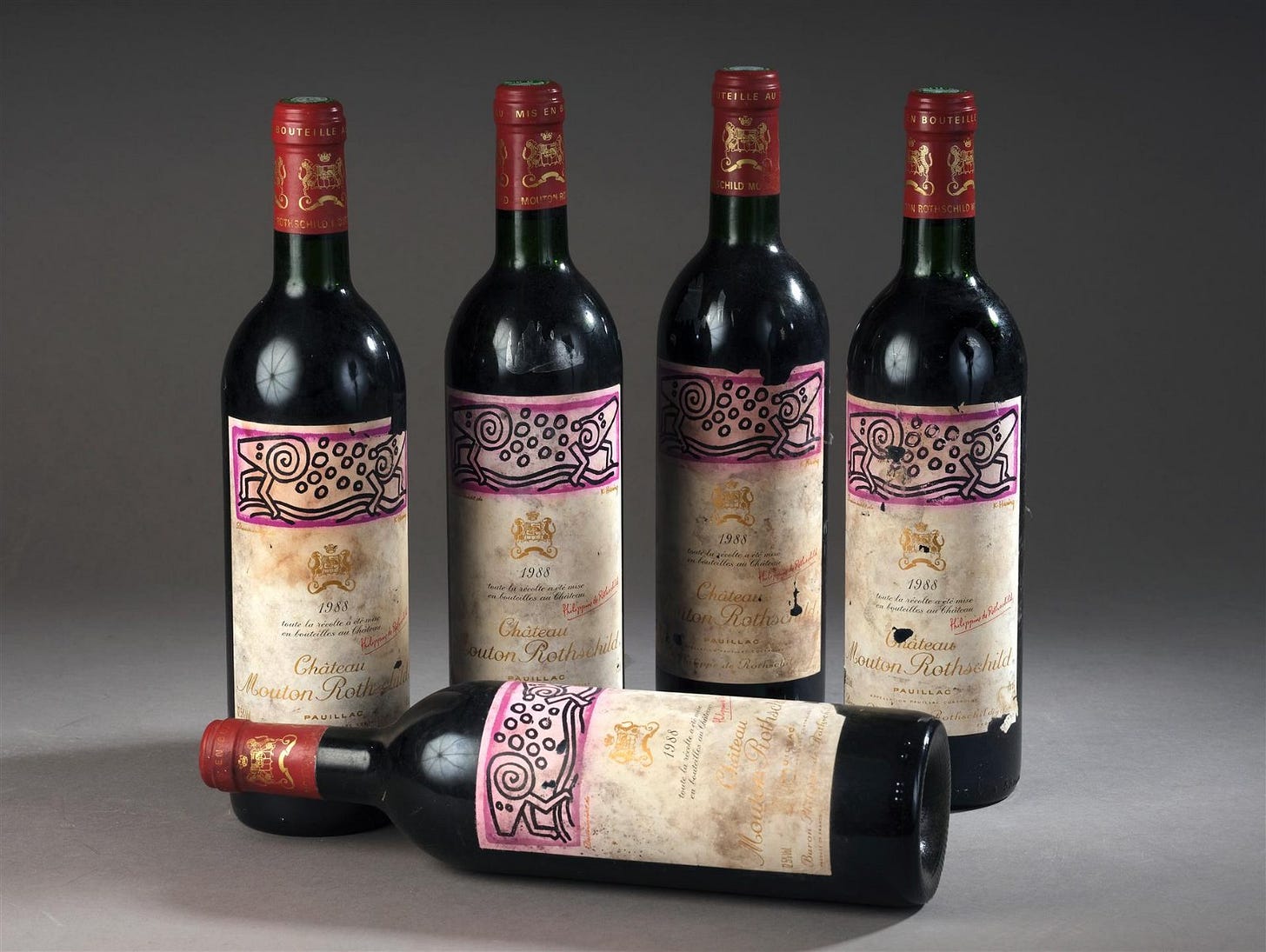 Wine isn't the locally consumed product it used to be. Something New World producers understood before their Old World counterparts. This trend appears set to last as cheaper prices and greater distribution makes wine available to more consumers in more countries.
Parkerization of the Wine World?
You can't talk about politics and wine, without talking about one of the most powerful and controversial actors in the wine industry, Robert Parker.
Before Parker, wine critics often had conflicts of interest with the wines they tasted. In this obscure, complex and sometimes corrupt environment, Parker's consumer-oriented approach was a revolution. He created a clear 100-point rating system, with each wine graded according to multiple elements (color and appearance, aroma and bouquet, flavor and finish and overall quality). This gave consumers a genuine disinterested opinion on wine. It also allowed the 'de-terroirization' of wine, where any wine could now challenge the most famous chateaux. It also had important economic effects on the industry, demonstrating the impact of Parker's influence. According to one Bordeaux shipper, "the difference [in revenue] between a score of 85 and 95 [for one wine] was 6 to 7 million Euros", and a "bottle rated 100 can multiply its price fourfold".
Thus experts have criticised what they call 'Parkerization' of wine, where wines are adapted to fit Parker's tastes. Because he is believed to prefer riper wines, with significant amount of alcohol and oak, winemakers adapted their methods: harvesting grapes later to ensure they're ripper, not filtering the wine or using microoxegination to reduce tannins. While the exact influence of Parker is hard to evaluate. His ratings undoubtedly led to a democratization of wine, both simplifying it for consumers while challenging the often-inflated reputation of some chateaux.
To learn more about Parker, I recommend reading his portrait in The Atlantic.
Climate: Here to Disrupt
Last week a Bloomberg article revealed that Saint-Emilion 2020 harvest may suffer from hail damage, with some wine makers reporting that more than 50% of their vines were damaged. By definition, winemaking is heavily dependent on climate. To make wine you need good sun, rainfall and soil. So climate change is set to have a major impact on wine, some of which are already visible today. Increased droughts and warmer weathers for instance, have resulted in an increase in the level of alcohol contained in some wines.
It could also have the positive effect of allowing other regions to start growing their own wine, and thus introducing a greater public to wine-making and wine consumption: the United Kingdom, Northern Europe, United States East Coast etc…
A few months ago I was invited by Luxembourg's Ambassador to the United Nations to a dinner at his residence. On that occasion, the Ambassador served us Luxembourgish white wine. As he toasted, he said "One of the positive aspects of climate change, if we can find any, is that our wine is getting better." Who knows? In ten years, Luxembourgish wines could beat American wines in what would be later known as the 'Judgement of Napa'. Setting a precedent for New New World wines to challenge both Old and New World Wines.
We could also witness a future where bold political decisions are taken to reduce the impact of climate change, thus limiting disruptions in the wine industry.
---
Sign up here to get notified about my future posts !
---
What Caught My Attention This Week
The Man who Thought too fast. Frank Ramsey—a philosopher, economist, and mathematician—was one of the greatest minds of the last century. Have we caught up with him yet? A fascinating New Yorker article.
Coronavirus Diplomacy: How China's Red Cross serves the Communist Party. The Red Cross in China seems like any other humanitarian group. But there is one crucial difference: it is funded and directed by the Chinese Communist Party.
Rolling Stone's The Rise and Fall of a Bitcoin King. How a bullied geek forged an empire out of digital currency, and became a suspect in a half-billion-dollar heist
---
5¢ Coke
For 70 years, the price of a bottle of Coca-Cola stayed at a nickel. Planet Money investigates why in a short entertaining podcast.
---
What I'm Reading
Martin Eden by Jack London.
Martin Eden is London's most autobiographical novel. The book, which describes Martin's pursuit of education and literary fame, is too often reduced to celebrating the protagonist's ambition. Jack London intended the book to be an attack on individualism. It also offers a reflection on the author's "conflict between support for socialism and his powerful self will."
"Who are you, Martin Eden? he demanded of himself in the looking-
glass, that night when he got back to his room. He gazed at
himself long and curiously. Who are you? What are you? Where do
you belong?"
---
Something to Think About
Someone reflecting on containment during the coronavirus crisis:
"I've found the monotony quite distressing… As if up until now i've only felt like i was living a life because i managed to create constant change."
---