Providing Assistance to Sex Workers in Navi Mumbai's Red-Light District
SimonSays #7 - NGOs across India are empowering sex workers towards a life of freedom.
Hi,
Welcome to SimonSays #7! If you'd like to sign up, you can do so below. Or just read on…
Until next week,
Stay safe!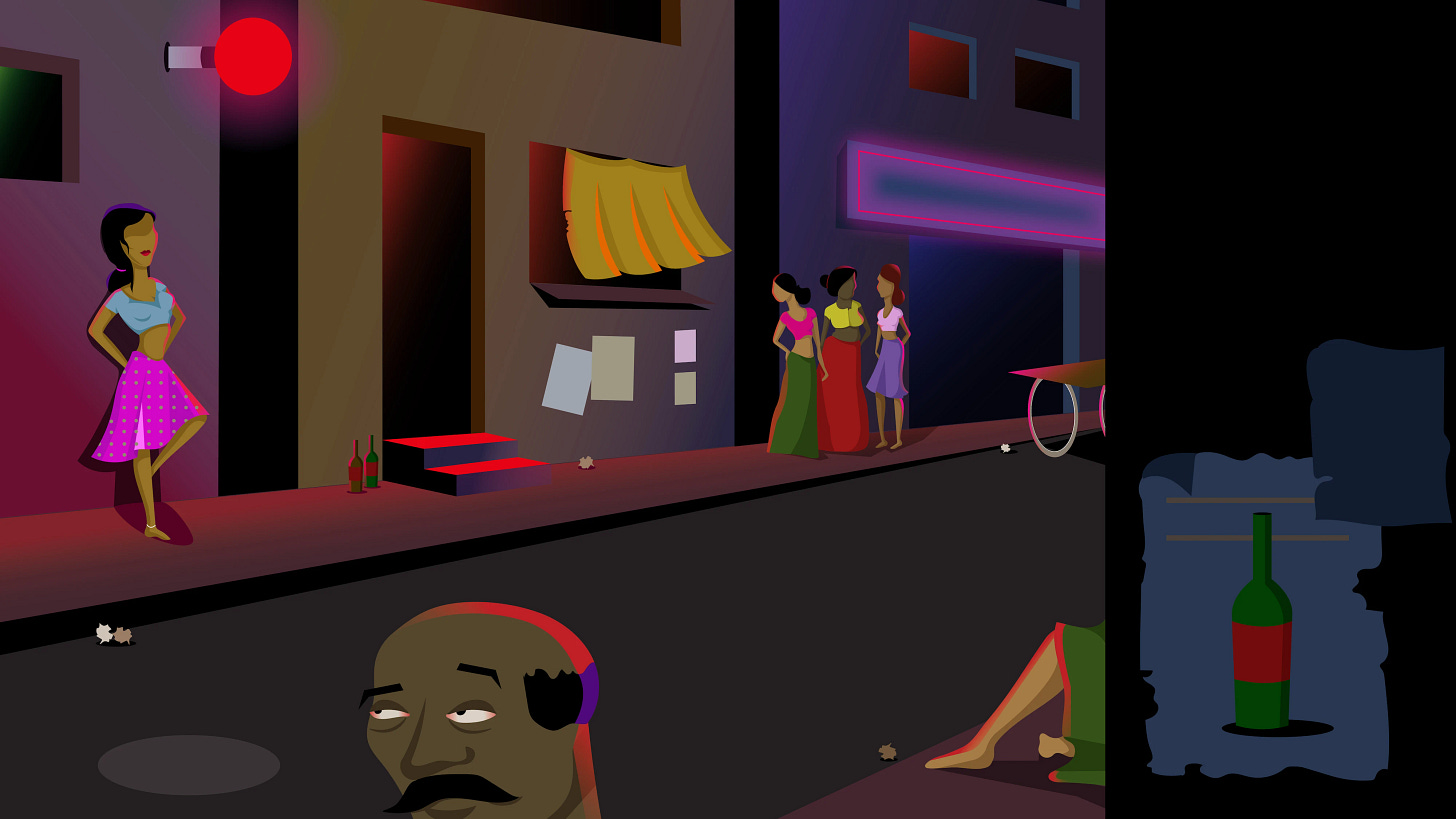 Two months ago, a colleague and I were given the opportunity to visit Sahaara Charitable Society to talk to their CEO and employees and visit their educational and all-in-one centers (education, nutrition, healthcare, counseling) in Navi Mumbai's Red-Light District. This was a truly interesting, inspiring and humbling experience. I naturally felt compelled to share what I learned during my visit and to highlight the amazing work the organization does.
Sex Work in India
Estimates of the number of commercial sex workers in India vary greatly from 3 million to up to 20 million! Of which between 1.5 and 16 million are believed to be or to have been victims of sex trafficking!
Sadly, the story of commercial sex workers starts very early, "the younger the better" to quote a trafficker. Take a second to read that quote again… Indeed, in India 40% of the victims of trafficking are adolescents and children.
In the worst cases, girls and women are "kidnapped or lured from their homes, forced into sexual slavery through a combination of coercion, torture, starvation and rape. Typically they are taken from rural communities and relocated to cities hundreds of miles away, across state and even national borders, where they have no support network and often don't even speak the local language." Not everyone is equally vulnerable to sex trafficking. Poverty and illiteracy both increase one's vulnerability to traffic, as over 70% of victims are illiterate and 50% have a daily family income of less than 1 USD.
In the brothel we visited in Navi Mumbai's red-light district, many of the women were from the poorest regions of India (Bihar, Jharkhand, West Bengal) and from poorer neighbouring countries: Nepal and Bangladesh.
Poverty and illiteracy are also the two prime factors leading women to voluntarily become sex workers. A survey by Sarvojana Coalition revealed that "68 per cent of women sex workers in India entered the profession 'voluntarily', due to factors such as lack of education and poverty".
Life as a Commercial Sex Worker
Once they enter or are forced into sex work, the prospects of escaping are limited if not inexistant. Indeed, when discussing with Sahaara Charitable Society's CEO, I learned that Commercial Sex Workers generally faced 4 issues that made escaping their situation impossible:
Addiction (alcohol, drugs, medication). This can be forced by pimps and brothel-owners, can be imposed by clients (so as to make them more docile, and more likely to cave to their fantasies), or for other reasons (as a way of escaping reality or of feeling more brave to stand up to certain clients). By definition, addiction is very hard to escape. Let alone if you're poor and ostracized.
Health issues. Most of these women and girls come from very poor backgrounds, which is generally the reason why they end up in this field of work in the first place. Given the illegal nature of brothels, and the stigmatization sex workers face, they are forced to live in very unhealthy conditions. Too many of them therefore live with untreated skin infections, STDs, HIV/AIDS and Tuberculosis. Mental Health is also an important issue with over 92% of sex workers suffering from mild or more severe mental health issues, with no facilities available specifically for them.
Abuse. Many CSWs are married to their pimp or to the brothel owner who abuse them regularly. CSWs also face abuse from clients, who beat them if they refuse to have unprotected sex or fullfill their sexual fantasies. Abuse can be verbal, physical or sexual. Rape is common among CSWs. As a Sahaara employee told me, if sex workers could report rape or abuses to local police officers, their lives would be much less dangerous. Instead, police brutality and abuse are among the numerous daily threats sex workers face… 
Debt. As mentioned previously, CSWs are generally sold to pimps and brothel owners (anywhere from 5000 INR (60 euros) to 1.2 lakhs (1400 euros), according to the Sahaara Charitable Society CEO). They therefore consider that the CSWs are indebted to them, until they've paid back their debt. This often means that once girls and women become CSWs, they cannot escape their condition for years and most often decades.
These four issues, in addition to others such as marginalization or illiteracy, often mean that becoming a CSW is a life sentence, from which too few are capable of escaping.
In the Stolen Innocence India's Untold Story of Human Trafficking Documentary below, a Trafficked Sex Worker testifies: "My trafficker hit and raped me. At that point, the other girls explained the situation. They said, "Your life is ruined now. Just accept it". I accepted it and I'm still in the same work."
Not every Sex Worker is a Victim, far from it. 
While the previous paragraphs have focused on the challenges and horrors that too many girls and women are forced to endure, it would be wrong to assume that all sex workers are victims. Far from it. 
In 2001, 25 000 sex workers gathered in Kolkata to oppose being labelled as 'victims' who had to be rehabilitated. The protesters demanded that their profession be recognised as 'work' voluntarily chosen by consenting adults.
A survey by Sarvojana Coalition, discussed previously, reinforces that idea by revealing that the main reasons many sex workers continued with the work were flexibility of time (69%) and higher earnings than other professions (60%). Therefore highlighting that most sex workers continue working in the profession voluntarily rather than under constraint.
This is exactly why laws and minds have to evolve in favor of prostitution. The opaqueness of the sector has blurred the line between consensual work and illegal practices. Thus, the Indian government's approach to rehabilitate all sex workers on the basis that they're all victims appears completely obsolete. Citing a study on the issue titled 'Raided', Ms Meera, which heads a social organisation working for the rights of sex workers said that "70% of the rescued women returned to their profession after being released, which shows they are not victims as being projected, but voluntarily chose the profession."
Do we rescue all construction workers, because a percentage are illegal aliens, underage, or exploited? So why does the government continue to apply this logic to sex work?
If you want to learn more about the issue of sex trafficking in India and what should be done to solve it, I recommend reading Dasra's enlightening report: ZERO TRAFFICK: Eliminating Sex Trafficking in India. The report advocates for a multifaceted approach to deal with this complex problem, using a 4P framework: prevention, protection, prosecution and partnership.
Sahaara Charitable Society: Quality not Quantity
I had the opportunity to visit Sahaara Charitable Society's educational and all-in-one Centers (education, nutrition, healthcare, counseling) in Navi Mumbai's Red-Light District. This 25 year old charity aims to "Fullfill Dreams" of the most marginalized communities and individuals in places where few NGOs go.
As a journalist from India CSR writes: 
"From the child victimized in a perilous red light area, to her trafficked mother benumbed by sexual violence, to the languishing prisoner, to the child invisible behind high walls of the observation home, to the orphan on the street, to the stick- tapping visually challenged woman on the speeding train and to the slum child who is written off to be a child labourer, Sahaara perseveres in the enkindling of the dying dreams all across the city of Mumbai."
Sahaara helps women from the red-light area have access to various vocational training programs: financial management, basic education, skills development, health awareness programs and community building activities.
As employees from Sahaara Charitable Society told me, one of the real strengths of the organization is that they are based in the red-light district. This is indeed a true asset as it means that the employees can take whatever time is necessary to rehabilitate CSWs rather than limiting their actions to anti-trafficking rescuing operations. Sex workers participate in the NGO's activities for months and most often years, improving their literacy and numeracy, learning new skills (such as painting or knitting) and discussing alternative livelihoods.
Sahaara also provides free education and a meal a day for the children of sex workers, who in most cases are "ignored, neglected and often humiliated". Urmi Basu who cofounded New Light, an NGO who's work is similar to that of Sahaara, wrote that:
"The women with children told her that they'd hide their kids under the bed or in closets while they were working. That was how they tried to protect them from clients who might come drunk or on drugs and sometimes become violent."
Thus not only does Sahaara provide a safe shelter for those children, but they also give them access to an education, something they would not have had access to without the NGO. Moreover, given the nature of their work, commercial sex workers work at night and sleep during the day. Such a rhythm often means that their children are fed irregularly resulting in issues of malnourishment. Thus, by providing regular meals to the sex workers' children, Sahaara has an invaluable health impact on their life.
Through these simple but impactful actions, Sahaara Charitable Society has been able to reinstate 110 commercial sex workers and educate 60 children (of which 6 ended up going to college).
While the NGO's CEO recognized that the organization could have had a larger quantitative impact, he stressed Sahaara's vision to prioritize "quality over quantity" and to ensure that every interaction and relationship they had with a marginalized girl, boy, woman or man was as profound and trustful as it could be.
If you want to learn more about their work, and the marginalized individuals they help, I would recommend watching the video below.
Any Hope?
There's some good news out there! 
One of the most positive recent evolutions has been the reduction in HIV/AIDS among female sex workers. According to the last UNAIDS Data available, in 2017 less than 1.6% of female sex workers had HIV/AIDS compared to 2.75% in 2013. 
Condom usage is also on the rise, with 91% of sex workers using condoms in 2018. This is the result of many initiatives: governmental, non-governmental and CSW-led. Indeed, sex workers are now better educated on sexual health, in some red-light districts sex workers have unionised to demand more rights (including compulsory condom use), and government and NGO provision of condoms have made them free (or very cheap) as well as more easily accessible. If you want to learn more about this, I recommend reading the article HIV Rates Are Down. There's Little Else Going For India's Sex Workers.
As I finish writing this article, reminiscing about what was probably one of the most impactful 'experiences' of my life, I am still shocked by some of the horrors I have been told. I'm also relieved to know that much progress has been achieved and that across India, thousands of NGOs like Sahaara Charitable Society are relentlessly helping commercial sex workers and their children.
Side Note: Sahaara Charitable Society has, to this date, provided emergency food relief to 2275 families critically impacted by the Covid-19 lockdown. You can help them by donating here!
---
---
What Caught My Attention This Week
The Quiet German. The New Yorker profiles Angela Merkel and her astonishing rise to become the most powerful woman in the world. 
New York Time's The World is Still Far From Herd Community for Coronavirus.The article's conclusion is even worse than the title suggests: not only are we far from herd community (New York is only one-third of the way there), but there's also so many unknowns with regards to the issue (does a past infection prevent you from getting sick a second time? what is the contamination threshold necessary for herd immunity?). One of my favorite Coronavirus-related articles.
The Atlantic writes about How China is Planning to Win Back the World. As its global image takes a big hit, the Chinese Communist Party is using an arsenal of spin, obfuscation, hyperbole, and outright disinformation to win back its reputation.
Poll of Polls: One year after the European election by Politico. This time last year, voters across the EU were casting their final ballots in the European Parliament election. But what would happen if that election were (or even could be) held today?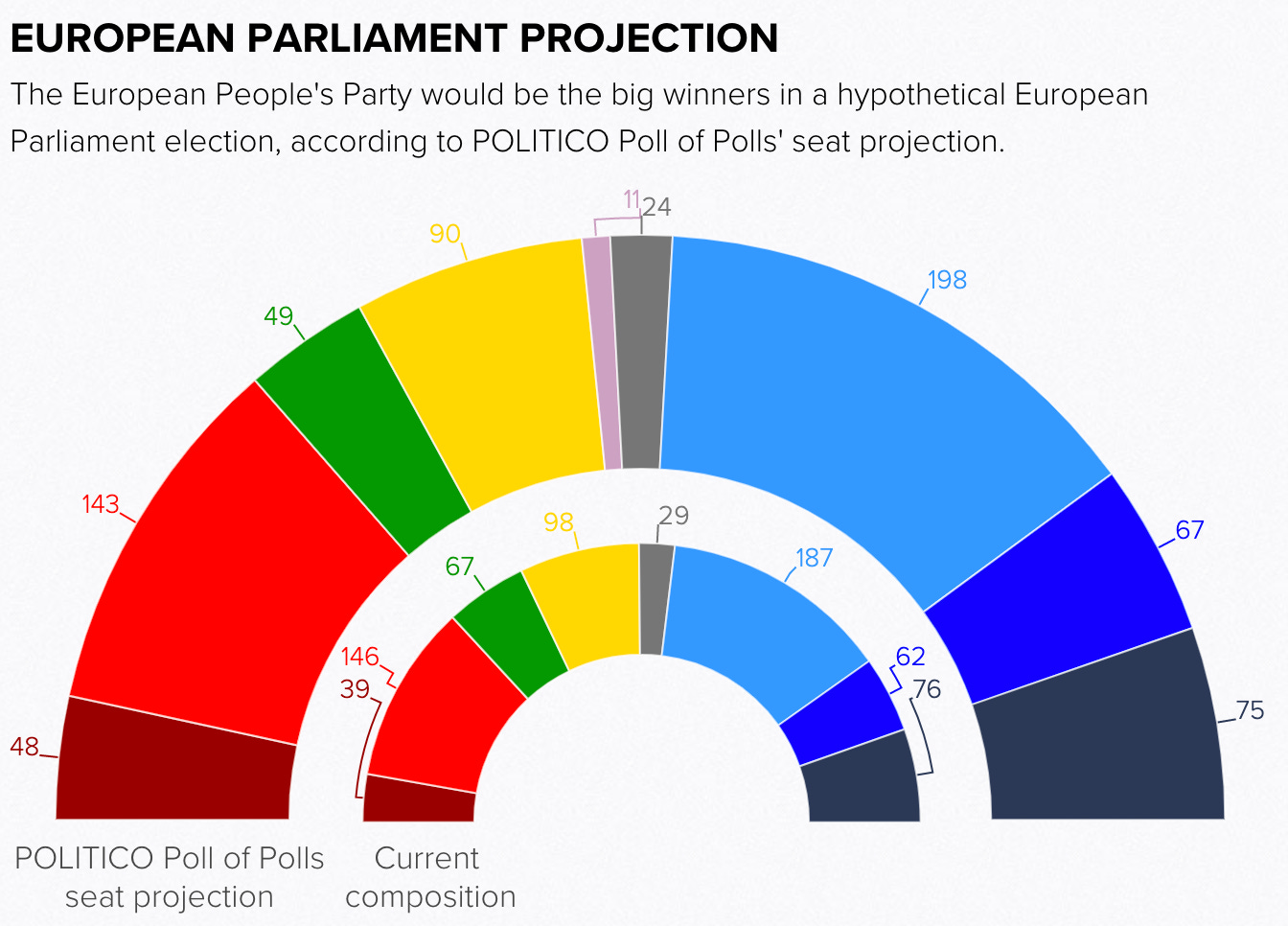 ---
In this episode of How I Built This, we learn about Jimmy Wales and the story behind the creation of Wikipedia. During the dot com boom of the late 1990s, Jimmy Wales was running an internet search company. That's when he began to experiment with the idea of an online encyclopedia. In 2001, Wales launched Wikipedia, a website where thousands of community members could contribute, edit, and monitor content on just about anything. Today, the non-profit has stayed true to its open source roots and is the 5th most visited website in the world.
Just Like Gutenberg's press made it possible to spread knowledge beyond a village or a town, Wikipedia made it possible for every single person on earth, with an internet connexion to gain access to probably the biggest collection of knowledge ever assembled.
---
What I'm Reading
The Power of Now: A Guide to Spiritual Enlightenment by Eckhart Tolle. I'm not used to reading healing & spirituality books. I started reading this one as a way to further appreciate the moment, the present, rather than the ultimate objective of whatever I'm working on. I enjoyed what Guardian-writer Oliver Burkeman wrote about the book's teachings.
The point isn't to try to be in the present, so much as to realise that you always, unavoidably, are. (…) Even when fretting about the future, or regretting the past, you are doing so now. This perspective is freeing: instead of suppressing such thoughts in a strenuous, counterproductive effort to "be present", you see them for what they are – stories being spun in the present – and they're suddenly much less distressing. Nothing ever happens except now. You're already in the moment. How could you not be?
I'll leave you with two of my favorite quotes from the book:
"All problems are illusions of the mind."

"As long as the egoic mind is running your life you cannot truly be at ease, you cannot be at peace or fulfilled except for brief intervals when you obtained what you wanted when a craving has just been fulfilled."
---
Something to Think About
"Mask-wearing used to read as disobedient. Now it reads as dutiful and protective."
Excerpt from a Slate Article on How the Pandemic May Have Readied Us for This Protest.
---
If you have any suggestions or feedback feel free to leave a comment below or contact me on Twitter @the_simonpastor